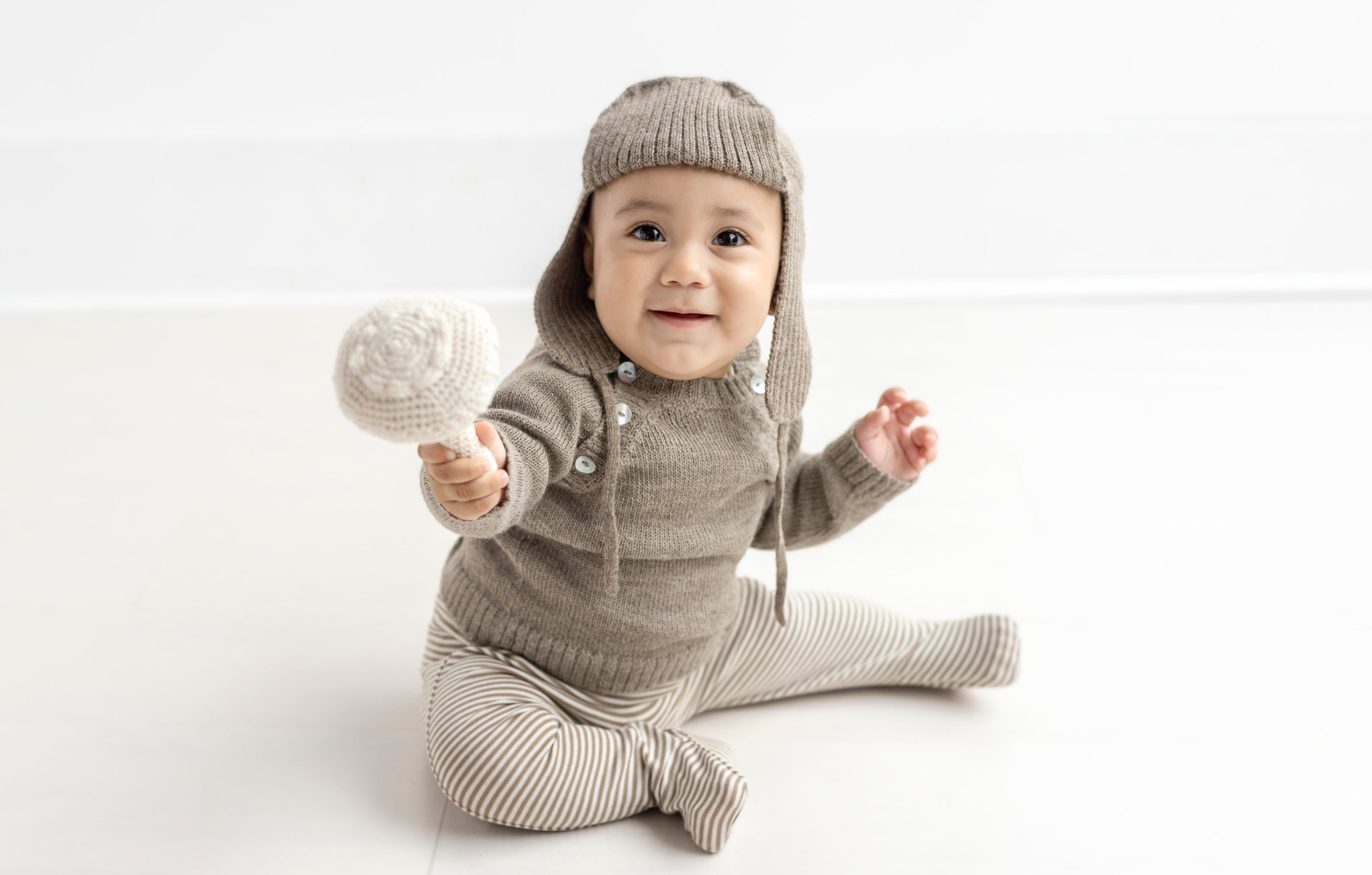 Cone Cap Mushroom Rattle
Sale price

$38.00
Regular price
(/)
Fair Trade
This hand crochet cone cap mushroom rattle sits at 4 1/2" tall.  Playfully shaped with a whimsical sound for the sweetest plush toy.  Spot these enchanted fungi and be entertained all day long!
hand crochet
100% certified organic cotton
natural dye
recycle polyester filling for easy machine wash cold
If you have any questions please contact us at info@taneorganics.com

| | | | |
| --- | --- | --- | --- |
| size | height in inches | weight in lbs | age |
| T2-0 | 18 (46cm) | 3-5 lbs | preemie |
| T2-1 | 19.5 (50cm) | 5-8 lbs | preemie |
| 0-3m | 22.25 | 7-9 lbs | 0-3 months |
| 3-6m | 25 | 9-16 lbs | 3-6 months |
| 6-9m | 27.5 | 16-19 lbs | 6-9 months |
| 9-12m | 28.5 | 19-21 lbs | 9-12 months |
| XS | 25 | 9-16 lbs | 3-6 months |
| S | 27.75 | 16-21 lbs | 6-12 months |
| M | 30.5 | 21-24 lbs | 12-18 months |
| L | 33 | 24-28 lbs | 18-24 months |
| XL | 35.5 | 28-32 lbs | 24-36 months |
Where are TANE products made?

All of TANE's products are crafted in Peru.  We chose to have a vertical manufacturing supply chain, keeping the process in one country and minimizing our CO2 footprint.

Have you visited the facilities?

Yes, it is very important for TANE to work intimately with our partners and artisans.  We are adamant about knowing where our products are made and who makes them.  We travel 2-3 times a year to mentor and to work with artisans on new designs. As well as sharing new creative ideas, we also map out business goals and visions, sustaining a healthy working cycle.  TANE believes that the exchange of ideas has no boundaries and our encouragement of all voices cements our mission to nurture a positive and rewarding work environment.  Our business partners and artisans have become friends and family.

How are the product made?

TANE hand knit products, including the Baby Sock Booties, Newborn Sweater Knits, and Handmade Accessories are made in a cooperative setting. Skilled artisans are given materials and tools to knit, with instructions.  They then gather at a local location, often at someone's home, to knit as a group.  This format provides a safe setting to care for small children, and a community to share different techniques. TANE's Newborn Baby Clothes, including the Layettes and Infant Baby Clothes are sewed and assembled at homes located near the main facility.  This set up allows the artisans to work at their own pace, in the comfort of their homes.  The main facility will collect, care, and inspect all of the products and prepare for export to our studio in New York City. 

Are all of the products organic?

Yes, all of TANE's organic cotton products are made with GOTS certified organic cotton.  The aim of the Global Organic Textile Standard (GOTS) is to define requirements to ensure organic status of textiles.  From harvesting of the raw materials, through environmentally and socially responsible manufacturing up to labeling in order to provide a credible assurance to the end consumer.  We monitor our process to meet the industry's standards and requirements.  Our natural fiber baby clothes define our brand.  It is part of TANE organics's DNA.

TANE's baby alpaca collection uses naturally undyed baby alpaca, harvested in the highlands of Peru.  The animals are herded by farmers and raised in a sustainable way.  Alpacas are indigenous to Peru and are part of Peru's textile history and tradition.

What are the washing instruction for TANE products?

TANE recommends washing all garments in cold water. They are machine washable on gentle cycle.  Hang dry or lay flat to dry is our preference for all garments.  Baby alpaca garments can be dry cleaned but are best when hand washed, and lay flat to dry. Our handmade toys and rattles are stuffed with polyester to make them readily machine washable.  It is important to us for our products to be easy to care for.

Do organic cotton products shrink?

If proper washing and drying instructions are followed, your TANE garments will hold up for many years to come. 

How are organic cotton products healthier than conventional cotton products?

The skin on babies and toddlers is much finer than that of an adult.  Chemicals used in conventional cotton garments are easily absorbed into delicate skin and pores.  The pesticides used on conventional cotton is toxic, both to the soil in the field as well as for the wearer.  As a result, many children develop allergies and skin issues when exposed to these toxic materials as a newborn.  It is our priority to assure that our products are non-toxic.  Being an eco friendly brand means consistently monitoring the process from soil to finishing. Our facilities are inspected and certified yearly by GOTS.

What are the key pieces to your collection?

We have been in the designer children's business for over 10 years and through these years, we have worked closely with our retailers and our customers to identify the key TANE layette styles.  Essential to any newborn's wardrobe is a good Skull Cap, an easy Onesie, a pair of Pull On Pants, and a Swaddle Blanket.

How does TANE's wardrobing system work?

TANE's vision for a simple, easy system of dressing have been the pillar of the brand.  The focus on precious hand feel and luxurious texture anchors the philosophy of interchangeable pieces.  TANE's neutral colors complement this formula, making it super easy to dress your child.  One can mix and match or dress in head to toe colors and textures.  Through fittings and feedbacks, we have perfected the details in each styles.  The perfect place to place a snap, the ideal length of a tie, the exact measurement to an opening are all details proven to provide the best fit and comfort for the child.

What were your original inspirations?

TANE organics was created with the intention of offering a well curated collection that reflects sophisticated beauty in both material and collaboration.  We were inspired by the elegance of organic cotton fibers, the luxurious textures that it creates and the importance of health benefits for our children, as they enter the world.  We were also inspired by the mutual creative exchanges with the artisans, providing work for individuals who otherwise had little choices but to work in the field.  In a small way, by providing work, self esteem is elevated.  The vision of a better future is formulated, and along the way, we slowly change the future of an individual, as well as small communities.
Shipping

Free shipping for orders over $200. Shipping  within the U.S is 2-4 days.

Returns

Items purchased at full price from TANE organics may be returned within 14 days of purchase for a full refund, exchange, or store credit.  
Cone Cap Mushroom Rattle
Sale price

$38.00
Regular price
Choose options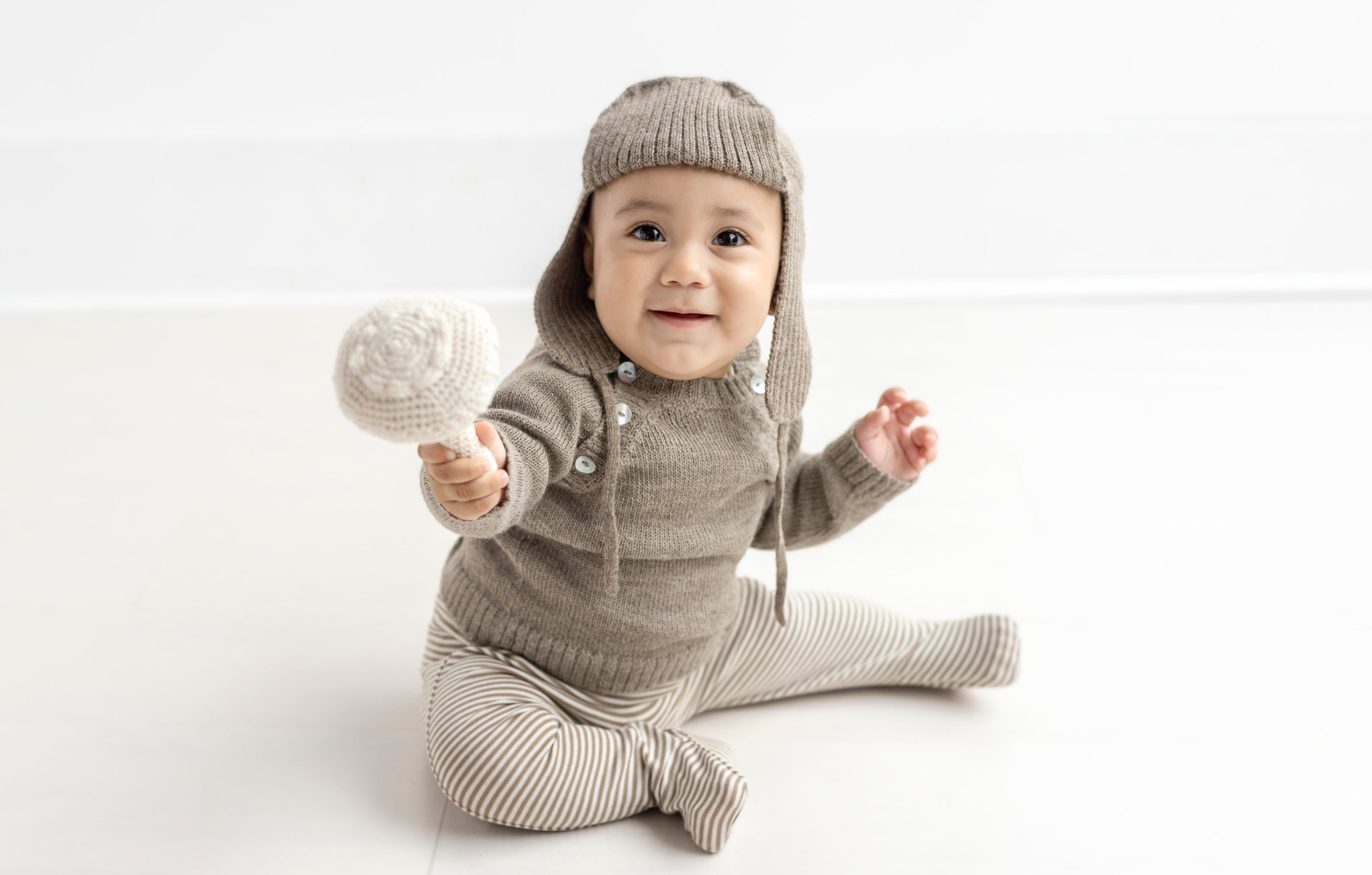 What people are saying...
The fabric is wonderful! I will buy more and just rotate the same thing just in a different colour. Customer service is great!
Nataliya S.
VERIFIED PURCHASE
Love the Tane kimono playsuit!! The fabric is super soft and great quality. I also love the style of this onesie; the kimono wrap gives it a little something different. Many compliments.
Sarah B.
VERIFIED PURCHASE
I LOVED my purchase! From the spongy soft pointelle romper to the summary colors of the tank and short sleeve rompers I purchased, I am beyond pleased. Tane is my absolute go to for newborn and infant clothing. Exceptionally soft and of highest quality. I am very pleased!
Sahra A.
VERIFIED PURCHASE
This fabric breathes so well and is perfect for hot weather and sweaty babies. It has a delicate quality to it and really fine detail around the trim. This shirt is soft and the little chest pocket is super cute!
Sahra A.
VERIFIED PURCHASE